Veronica Tennant will be inducted into the INAUGURAL Encore! Dance Hall of Fame on March 25, 2018.






The Encore! Dance Hall of Fame event will honour and celebrate dynamic lifelong contributions to dance in Canada by some remarkable individuals. Honorees are associated with many dance disciplines - from Kathak to ballet to modern. They include Veronica Tennant, Danny Grossman, Karen Jamieson, Joan and Jerry Lozinski, Ola Skanks, Rina Singha, Alan and Blanche Lund, Rene Highway, and Jeanne Renaud.

Presenters to the inductees include Evelyn Hart, Micah Barnes, Sheila McCarthy, Deepti Gupta, Louise Bedard, Seika Boye, Pam Grundy and Pierre Des Marais.

Prima Ballerina with The National Ballet of Canada for 25 years, Veronica Tennant, won hearts and accolades dancing with such luminaries as Erik Bruhn, Rudolf Nureyev  and Mikhail Baryshnikov. In 1989 she danced her farewell performance, with her signature role of Juliet, and a Gala entitled: A Passion for Dance - Celebrating the Tennant Magic. Now an award-winning filmmaker, producer/director, Veronica received the International Emmy for Karen Kain: Dancing in the Moment. For CBC she also created the Gemini Award-winning Margie Gillis: Wild Hearts in Strange Times, and Shadow Pleasures, narrated and written by Michael Ondaatje. Her Vida y Danza, Cuba was screened at the first Luminato Festival and Veronica was thrilled to collaborate closely with DCD on The Dancers' Story, and Celia Franca: Tour de Force. The first dancer to be appointed as Officer of the Order of Canada in 1975, Veronica was elevated to the rank of Companion in 2003, the Order's highest honour. As an inductee, Veronica Tennant has been named as Honorary Chair of DCD's inaugural Dance Hall of Fame.

Website: Encore! Dance Hall of Fame

Inductee Video: https://www.youtube.com/watch?v=TVAhXTear_0







CHRISTOPHER PLUMMER – an in-depth portrait of the life and illustrious career spanning more than 6 decades  of actor, author, and musician, Christopher Plummer – in conversation with Atom Egoyan. Commissioned by THEATRE MUSEUM, CANADA, this 90 minute film is produced by Brian Robertson and Veronica Tennant. (more exciting news to come!)

http://www.cbc.ca/news/entertainment/christopher-plummer-interview-oscars-all-money-in-world-1.4554088







The Curse of Clara will be broadcast on CBC, Monday, December 25, 2017, at 1:00 pm





Website: The Curse of Clara






Celebrating the 25th anniversary of The Governor General's Performing Arts Awards at Rideau Hall - June 28th 2017


| | | |
| --- | --- | --- |
| | | |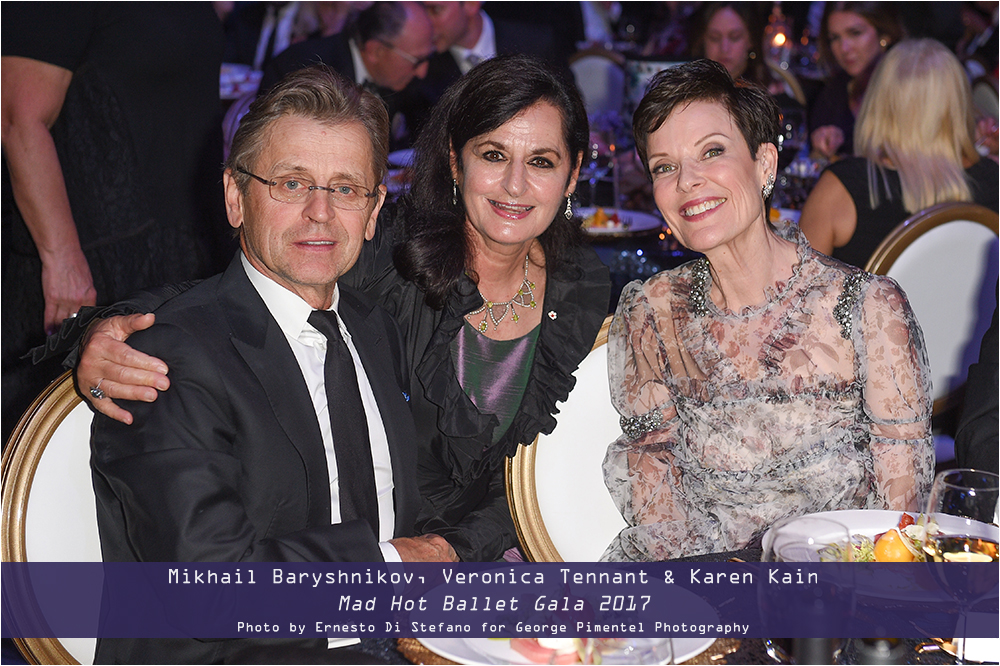 This past Tuesday, Toronto's most stylish commingled with The National Ballet of Canada dancers and staff for the company's annual fundraising event, the Mad Hot Ballet Gala at the Four Seasons Centre for the Performing Arts, which raised over $1.3 million for the company. This year's rendition, entitled Northern Lights, was an ode to Canada's 150th birthday and celebrated Canadian talents of the past and present, including Rex Harrington, Veronica Tennant, Frank Augustyn and Evelyn Hart. Canada wasn't the only one celebrating a milestone anniversary, though: Greta Hodgkinson (who performed Nuages) and Xiao Nan Yu (who danced The Sea Above, The Sky Below) were marking their 25th and 20th years with the company, respectively.

The gala kicked off with a presentation of six diverse pieces, including classical ballet ones and those with a contemporary edge: Surge, Tarantella, a Pas de Deux from Coppélia, Nuages, a Pas de Deux from Le Corsaire and The Sea Above, The Sky Below. For the latter, principal dancer Xiao Nan Yu wore a red floral-printed-tulle dress designed by Canada's own Erdem.

Full article: http://fashionmagazine.com/culture/mad-hot-ballet-gala-2017/







Congratulations to The Curse of Clara for winning "Best Animated Program or Series" at this year's Canadian Screen Awards!




CBC Article: http://www.cbc.ca/news/entertainment/canadian-screen-awards-creative-fiction-1.4016191






climaxed a magical week of performances following our World Premiere on July 23rd, with two shows on the closing day of the PANAMANIA and the Pan Am Games in Toronto on July 26th 2015. It has been such a pleasure to work with editor, Tim Kirkwood on creating our SIZZLE REEL to post and share. We have distilled the footage - shot live in the Ada Slaight Hall at Daniels Spectrum – to 4 minutes. I salute our passionately committed performers; Rene Millan and Paula Rivera, along with Brent Carver and John Gzowski - and the supreme creative team - Astrid Janson, Cameron Davis, Jock Munro, and our brilliant playwright, Guillermo Verdecchia. A cheer too, to Keith Ellis.

Thanks and kudos must go to Producers, Peter W. Lamb, Leslie Haller, Peter Gentile and SOULPEPPER; and - to all Contributors, Sponsors and Audiences.

http://www.niagarapoem.com/sizzle-reel.html



Veronica Tennant welcomes Margaret Atwood to World Premiere of .

(July 23, 2015)

More photos available on our Facebook/Twitter/Instagram pages:

Facebook: http://www.facebook.com/niagarapoemtheshow
Twitter: http://www.twitter.com/niagarapoemshow
Instagram: http://www.instagram.com/niagarapoemtheshow

MORE INFO: www.niagarapoem.com

, commissioned for the TORONTO 2015 arts and culture festival PANAMANIA, presented by CIBC, is inspired by PANAMANIA TO2015's theme of 'Aquaculture', celebrating the culminating year of the United Nations International Decade for Action - "Water for Life."

Live on stage: Jul. 23 - 26, 2015, Daniels Spectrum - 585 Dundas Street East, Toronto




is inspired by PANAMANIA TO2015's theme of 'Aquaculture', celebrating the culminating year of the United Nations International Decade for Action - "Water for Life".

AMAZING FACT!
Almost 20% of the world's fresh water supply travels through Niagara Falls.

TRUE STORY!
In 1824 Jose Maria Heredia, a twenty-year old poet and revolutionary was exiled, forcing him to escape for his life from his native Cuba. A man of astonishing courage, not only did Heredia join a Secret Society for freedom from Spanish rule – demand the abolition of slavery - decry the Conquistadors' genocide of Cuba's Aboriginal peoples - but he was also an environmentalist!

Written on the edge of an enormous precipice on the Canadian side of the Falls, Jose Maria Heredia wrote a cathartic poem which immediately immorta-lized him as 'The First Poet of the Americas'. It is studied and cherished to this day by every Cuban and generations of Latin Americans, who (along with the rest of the world), are compelled to visit Niagara Falls as a first stop in North America - taking on an almost cultural pilgrimage! For Canadians – while there is a plaque to Heredia at Table Rock - this cherished Cuban connection is a little known fact!


Poster: Scott Thornley + Company STCstorytellers.com




Currently in creation by a superb roster of creators – will be a live experience, fusing dramatic text with a cast of 2 Actors; onstage musicians; and a wealth of recorded Cuban music with its unique African, Spanish and Aboriginal roots. Script-text will be in English and Spanish - (the predominant languages of the Pan Americas) - and Jose Maria Heredia's story will flash-back and forwards, in many vocabularies – exploring song, movement, film/video and audio/visual technology. Niagara Falls in Heredia's time was a gargantuan force of nature far more wild, crashing and overpowering than today's remnants (which, even so, draws 12 million visitors a year). Jose Maria himself will come alive; he spoke of "danger and awe", and described how the very rock where he'd sat, hurtled into the chasm as he rose to leave. In the poem's last line he also predicted that he would die "in a few years", and hoped some "kind traveller" might one day look upon Niagara and think of him! The extraordinary truth is that both came to pass! Heredia died in poverty of tuberculosis in Mexico at the age of 35, and his poem is cherished to this day.





is an iconic Pan-American story: What more apt time for this discovery to be imaginatively blazoned - than during PANAMANIA the Pan-American Arts and Culture program Toronto 2015?

Conceived and Directed by VERONICA TENNANT
Creative Team: GUILLERMO VERDECCHIA, ASTRID JANSON,
JOHN GZOWSKI, JOCK MUNRO, CAMERON DAVIS
Produced by: PETER W. LAMB, LESLIE HALLER and PETER GENTILE
Historian/translator: KEITH ELLIS
Creative Consultants, Cuba: LIZT ALFONSO, JUAN CARLOS COELLO,
ROBERTO CHORENS, CARLOS ALBERTO CREMATA, La Colmenita

: A project produced by:
PROPELLER ARTS PROJECTS
NIAGARA PROJECT COLLECTIVE







Website -

http://www.toronto2015.org/panamania


Facebook -

https://www.facebook.com/toronto2015


Twitter -

@to2015

#to2015
Instagram -

toronto2015












THE CURSE OF CLARA: A HOLIDAY TALE returns to CBC Television – December 11th, 2016 – with Phil Esposito, Bob Cole, Karen Kain, Sheila McCarthy, Sara Botsford, and Saara Chaudry

Website: The Curse of Clara

Story:

In this delightfully heartwarming holiday tale, Vickie, a small-town girl, is accepted into the prestigious National Ballet School in Toronto, and lands the coveted role of Clara in the Company's annual production of The Nutcracker. Things look like they couldn't get any better. And they can't, because that's when Vickie finds out about the mysterious "Curse of Clara". According to local legend, the young girls that star in the production almost never go on to become professional ballet dancers. Thankfully, she has a good friend, the 1972 Summit Series, and imaginary mentor Phil Esposito to keep her "on pointe".

Production Summary:

Inspired by the autobiographical short story "The Curse of Clara or My Big Fat Disappointment" by Vickie Fagan, the special is set against the backdrop of the 1972 Summit Series, a Canada-USSR showdown that shaped hockey history. The special stars Hockey Hall of Fame Inductees Phil Esposito, Bob Cole (Hockey Night in Canada) and National Ballet of Canada Prima Ballerina Karen Kain as themselves with Sheila McCarthy (Little Mosque on the Prairie, Emily of New Moon) as narrator, Sara Botsford (E.N.G., Legal Eagles, Still of the Night) as the ballet mistress and Saara Chaudry (Max and Shred, Degrassi) in the roles of Vickie and Clara.

THE CURSE OF CLARA: A HOLIDAY TALE is produced by Smiley Guy Studios in association with CBC, and with the participation of the Canada Media Fund. Executive Producer is Jonas Diamond (Odd Job Jack, Guidestones). Producers are Veronica Tennant (Vida Y Danza Cuba – Life & Dance, Celia Franca: Tour de Force), Vickie Fagan (Toronto Biographies, Adventures in Breathing), Jeremy Diamond (Pillars of Freedom, Odd Job Jack) and Denny Silverthorne (Warren United, Wussywat). THE CURSE OF CLARA: A HOLIDAY TALE is written by Jeremy Diamond and Vickie Fagan and directed by M.R. Horhager (Chirp, I Hate You Red Light) and Mike Valiquette (Captain Canuck, Chirp).


CBC Radio Morning Shows

Vickie Fagan and Veronica Tennant will be on CBC Radio One MORNING Shows, sometime between 6 and 8:30am across the country on Dec. 11 and Dec. 14.

On Fri Dec. 11:

Veronica w/ Kitchener-Waterloo Host Craig Norris - Twitter: @cbckw891

On Mon. Dec. 14:

Veronica w/ Ontario AM Host Wei Chen - Twitter: @CBCOntMorning
Veronica w/ Sudbury Morning North Host Markus Schwabe - Twitter @MorningNorth, Twitter (host): @cbcmarkus
Veronica w/ Windsor Morning Host Tony Doucette - Twitter: @WindsorMorning
Veronica w/ Vancouver The Early Edition Host Rick Cluff - Twitter: @cbcearlyedition
Veronica w/ Whitehorse A New Day Host Sandi Coleman - Twitter: @cbcanewday
Veronica w/ Regina The Morning Edition Host: Sheila Cole – Twitter (host): @sheilacolescbc
Veronica w/ Edmonton - Edmonton AM Host Mark Connolly – Twitter: @markconnollycbc

Website: curseofclara.com
Twitter: @curseofclara #CurseOfClara
Instagram: @curseofclara
Facebook: Facebook.com/curseofclara
Media Release: http://bit.ly/CurseOfClara






http://www.bravofact.com/2012/12/21/somethings-coming-from-west-side-story-suite-2012/

Inspired by "West Side Story",

Something's Coming!

pairs Canada's charismatic Superstars the National Ballet's Guillaume Cote and Stratford Festival's Paul Nolan in a contemporary interpretation celebrating optimism in the face of conflict.

Something's Coming!

is conceived and directed by Veronica Tennant and produced by Robert Budreau and Jordan Walker. Commissioned by bravoFACT and launched, December 2012, it was telecast on CBC, January 2013 and was screened theatrically by Cineplex in February 2013.





Michelle Levy, Post City Magazine, March 2014






Veronica Tennant & Co-Host "theZoomer", Denise Donlon.


Graham Greene & Veronica Tennant appeared on
MEMORY segment "theZoomer", Vision TV, Nov. 2013


Talking tutus: The National Ballet of Canada celebrates 60 years! - Elle Canada - The Elle Word


| | |
| --- | --- |
| As a principal dancer, Veronica Tennant commanded everyone's attention - but the much-loved former National Ballet of Canada ballerina couldn't compete with the appalling acoustics at the Design Exchange earlier this week. Tennant - who was there to launch the opening of the 60 Years of Designing the Ballet exhibit - sounded like Charlie Brown's teacher: "Bwaah bwah bwah bwah bwaaah… design Bwah bwabwah bwah bwah bwah…. tutu." I caught the odd word, but mostly my mind and eyes wandered until I noticed that Tennant was delivering her speech en pointe, which I found rather charming. "Once a dancer, always a dancer," she said with a laugh, when I chatted with her later. | |

Full article: http://www.ellecanada.com/blog/2012/07/14/talking-tutus-the-national-ballet-of-canada-celebrates-60-years/)




The CBC WE WANT; Friends of Canadian Broadcasting: A national conversation on the future direction of the CBC moderated by Veronica Tennant and distinguished panelists.

Watch the Forum held at the Knox Presbyterian Church in Waterloo, Ontario May31st, 2012:
http://www.friends.ca/TheCBCWeWant/

Jim Byrd (Broadcasting consultant, VP CBC English Television, 1994-99)
Howard Dyck (Conductor, broadcaster, writer, lecturer)
Noreen Golfman (Film studies, Canadian literature, Memorial University of Newfoundland)
Martin de Groot (Executive Director, Waterloo Regional Arts Council and The Record columnist)
Ethan Rabidoux (CJCS Radio Stratford, winner of the 2010 Dalton Camp Award)
Heather Sinclair (Inaugural CEO, Creative Enterprise Enabling Organization, Waterloo Region)
Don Tapscott (Chairman of Moxie Insight, leading authority on innovation and technology)
RH Thomson (Television, film and stage actor)
Aritha van Herk (Public intellectual, cultural speaker, award-winning Canadian novelist)
Catherine Cano (Political commentator, former senior executive in the News divisions of CBC, Radio-Canada & Al Jazeera English)

Dance Collection Danse has posted the ninth installment of the Choreographic Dialogues series, curated by Carol Anderson. The website component of Choreographic Dialogues combines transcripts of each presentation combined with photographs and video clips. This edition features a conversation with filmmaker, choreographer, dancer Veronica Tennant. (http://www.dcd.ca/vtcd1.html)

The NFB celebrates 60 years of The National Ballet of Canada: CELIA FRANCA: TOUR DE FORCE



| | |
| --- | --- |
| February 21, 2012 – The National Film Board presents – A penetrating profile of the Founder of the National Ballet of Canada with some wonderful archival vintage film footage shot in the fifties during the early days of the National Ballet of Canada. Director, producer, writer and narrator Veronica Tennant was present for a Q & A session following the screening. | |

(Source: http://www.onf-nfb.gc.ca/eng/mediatheque/schedule.php?id=2821)


"An Artists' Affair 3" – celebrating the Partnership of Arts and Health, a Fundraiser for the Al & Malka Green Artists' Health Centre at the Toronto Western Hospital and Tafelmusik Baroque Orchestra and Chamber Choir, April 24th 2012 at the Carlu. (Veronica Tennant, Artistic Producer) – hosted by Veronica Tennant and Peter Keleghan and featuring, Molly Johnson, Judith Thompson, Robert Kortgaard and Peter Tiefenbach, and Anjelica and Roger Scannura.




Veronica Tennant receives Cultural Ambassador appointment from Mayor Bob Bratina, City of Hamilton – Dec. 9-11



Veronica Tennant was presented with a Certificate of Appreciation and Special Appointment as Cultural Ambassador for the City of Hamilton from His Worship, Mayor Bob Bratina, onstage at Hamilton Place December 9th, 2011 prior to the Cuban Ballet's & Canadian Youth Ballet Ensemble's performance of The Nutcracker. The Citation read in part; "In gratitude for your distinguished service and outstanding contribution to the cultural identity of the City of Hamilton". Veronica Tennant read the opening passages from her book The Nutcracker, illustrated by Toller Cranston during the live orchestral overture. The Nutcracker performances were presented and sponsored by Belma Diamante, CEO & Past President of CYBE.

Vive La Danse 25! at the Imperial Room, Royal York Hotel October 26th, 2011 celebrating the Dancer Transition Resource Centre's 25th Anniversary – Director Veronica Tennant, Producer Peter Mak; Hosted by Sheila McCarthy & Geraint Wyn Davies – performances by Aleksandar Antonijevic, Guillaume Cote, Jason Fowler, Kate Hennig, Greta Hodgkinson, Robin Hutton, Laurence Lemieux & Juliette Coleman, John McDermott, Atri Nundy, Heather Ogden, Jackie Richardson, David Warrack, Dave Young and Gadfly Dance + featuring 13 Dancers' transitions into a wide range of careers including; Graphic Design, Masters of Education, Medicine, Stock Trading, Computer Programming, Development, Veterinary, and Ordained Minister.
http://dtrc.ca/english_support/gala_event_entry/25th_anniversary_gala_toronto/

Canada's Walk of Fame – Gala at Elgin Theatre, Toronto October 1st – Telecast on Global Television October 23rd 2011: For Insight Productions – Segment producer/director; 1) Tribute to: Mordecai Richler, Narrated and Presented by Christopher Plummer (video); and 2) Tribute to: Dr. Roberta Bondar – Narrated and Introduced by James Cameron (video)

Echappe Ballet Tours; Lectures and National Television appearances, Holguin Cuba Aug. 27 - Sept. 3. Conversations and screenings; History of Dance in Cuba plus Career Trajectories with Ballet Nacional Historian, Miguel Cabrera

A Magical Evening; A Tribute to Gerry & Tootsie Halbert – June 21, 2011 Koerner Hall: Celebrating the creation of the Gerry and Tootsie Halbert Chair in Neural Repair and Regeneration at the Krembil Neuroscience Centre, Toronto Western Hospital. Hosts/Chairs, Dr. Michael Baker and Leo Goldhar with Cynthia Dale, Shauna Rolston, Yuval Fichman, Moshe Hammer, Marc Jordan, Simon Rakoff, and Eric Stein & Beyond The Pale. [PDF article from Lifestyles Magazine]

"The Cinnamon Peeler" on Bravo!FACT's new show, In Short at 10:00 pm ET/7:00 pm PT, Wednesday May 18, 2011 on Bravo! – shorts will be available for viewing on http://www.bravofact.com.

January, 2011: "The Cinnamon Peeler" the sensuous poem written and voiced by Michael Ondaatje, and directed and choreographed by Veronica Tennant as part of the award-winning Shadow Pleasures, was selected to be screened as part of a curated program of CTV's Bravo!FACT (Foundation to Assist Canadian Talent) shorts at the 2011 Dance On Camera Festival in New York. The program was a retrospective of the some of the most popular dance shorts produced with Bravo!FACT awards, honouring Bravo!FACT's 15th anniversary. The screenings took place throughout the festival in January at the The Big Screen Project, an innovative venue for video, film, live and interactive content that sets a new standard for the urban, cinematic experience. Its 30 x 16.5 ft. HD Format LED screen is on a wall in a 10,000-square-foot public plaza on Sixth Avenue New York City.

October, 2010: Mini-film tribute to Actor/Filmmaker, Sarah Polley – whose star was placed on the streets of Toronto, as one of the celebrated inductees of the 2010 Canada's Walk of Fame – Veronica Tennant (2001 inductee) created the mini film tribute on Sarah for the Global/Slice Tribute Award show at the Canon Theatre October 16th 2010 – aired on Global TV October 18th.

August 14th 2010: Brott Music Festival – The Famous Firebird & Other Legends Veronica Tennant retells the tale of the spectacular glowing Firebird by Igor Stravinsky 100 years after its premiere in Paris 1910, while dancers from the famed Ottawa School of Dance bring a new version of the legend to life. Saturday, August 14, 2010 Mohawk College McIntyre Theatre, Hamilton 7:30pm. – http://www.brottmusic.com/concerts/august.php

February 8th 2010: Unique Lives at Roy Thomson Hall: Veronica Tennant led off the 2010 series followed by question and answer with CBC's Laurie Brown.

January, 2010: Havana, Cuban National Television: Veronica Tennant was invited to Havana by Cuban National Television to record a series of interviews to accompany shows she has both danced in, and produced and directed. These were aired in a series throughout 2010.



| | |
| --- | --- |
| Lizt Alfonso and Veronica Tennant in Havana | Veronica Tennant, Lizt Alfonso & Dancers – Markham Theatre |


Veronica Tennant was featured on Cuban National Television in 2010 on: La Danza Eterna (Canal Educativo) - 2 programs &
Bravo (Canal Cubavision) - 3 programs



ON STAGE, PLEASE, Art Installations by Art of Healing Foundation:



Recently:

BC Children's Hospital, Vancouver BC, May 12, 2011 – Earl Pinchuk, Veronica Tennant, Margaret Trudeau & Gary Blair




June 2010: On Stage Please – installation of illustrations by Rita Briansky in the new Sears for Cancer Clinic at Sick Kids Hospital with Art of Healing Foundation.



| | |
| --- | --- |
| With SickKids Ambassador/patient, Helena Kirk, June 15th, 2010 | Gary Blair and Earl Pinchuk, Founders and Directors of Art for Healing Foundation |


The Art for Healing Foundation and Veronica Tennant unveiled a permanent installation of artwork from On Stage, Please. This special gallery was made possible thanks to the donation of fourteen etchings by the book's illustrator and renowned Canadian artist,

Rita Briansky

. The Art for Healing Foundation, founded in 2002

by Earl Pinchuk and Gary Blair

, is dedicated to bringing the healing power of art to hospitals and related healthcare facilities to improve the welfare of those participating in the healing process both as healthcare givers and as patients. Since 2002, the Art for Healing Foundation has installed 4000 works of art in 41 institutions in Quebec, Ontario and Newfoundland.

The Sears Cancer Clinic at Sick Kids Hospital in Toronto, aims to make the hospital experience more comfortable for the 100 – 120 patients and their families who visit the clinic each day. The new Clinic, which opened in January 2010, features colourful decor, including original works of art by clinic patients and fun activities to keep children of all ages entertained. The Clinic offers a vibrant and friendly environment with more privacy, whether families are waiting for treatment, meeting with health-care providers or taking a quiet moment to reflect.



October, 2009: Janeway Children's Hospital, St. John's Newfoundland





October, 2008: Montreal Children's Hospital



Art for Healing Foundation photos by:
Earl Pinchuk and Gary Blair
Art for Healing Foundation / Fondation de l'art pour la guérison
90 rue Vinet St., Suite 105
Montreal (Quebec) H3J 2C9
(514) 846-3811




Art For Healing Foundation
http://www.artforhealingfoundation.org